Twin T-180 Royal Collection Hospital White Sheets and Pillow Cases made of 55% cotton / 45% Polyester. T-180 Royal Collection includes matching flat sheets, fitted sheets, and pillow cases...
These premium tablecloths are part of the Q Napery Collection. Matching Q Napkins are available. These white and black rectangular tablecloths are woven with 100% MJS spun polyester, making them...
Oxford Super Deluxe Bed Linens are made of T-300 thread count 65% Cotton / 35 Polyester bleached twill weave fabric. This combination insures a pilling proof anti-shrink wrinkle-free property with no...
Gold Dobby Hotel Room Towels made of 86% Ringspun Cotton / 14% Polyester with 100% Cotton Loops with a Cam Border. Incorporates increased absorbency with 100% cotton loops, and the strength in the...
Refresh your summer getaways with Economy Cabana Stripe Pool Towels, which are crafted of 100% cotton and have stylish 2X2 cabana stripes! These Bulk beach towels offer unbeatable value for both...
From ocean front properties to mountain retreats to luxury resorts across the country, the H2O Therapy Collection amenities brings a tasteful and welcoming atmosphere to each room. The earth...
Our Cabana Stripe Pool Towels  are the perfect combination of style and function. These beach towels are made with 100% cotton and feature vibrant vat-dyed yarns with classic 2X2 cabana stripes,...
RSVP Towel Collection with Dobby Border Towels made of 100% Ringspun Cotton and a Dobby Border. 100% Ringspun Cotton Dobby Border Towels Made In Pakistan Sold by the Case Only Color:...
Milliken's Signature Plus Table 62 x 62 Square Table Linens innovative fabric outperforms all challengers in terms of elegance, performance, quality, durability and value. Soft feel and...
The vinyl, three panel, Medical Room Divider Screen provides a quick and easy way to divide space and create privacy for patients. Great in hospitals, clinics, spas, or nursing homes,...
Welspun Weft Stripe Pool Towels are exceptionally durable hotel pool towels woven with 100% cotton pile. Horizontal stripes in polyester designer colors mean less fading for maximized durability and...
Pamper your guests with Dove Body Wash in Bulk, part of our economical selection of body washes, shampoos and conditioners, hand lotions, and soaps. Dove body wash products are available wholesale...
Best Sellers
Basic Economy Wholesale Towels 10/S made of 100% Cotton Terry which provides excellent absorbency while meeting your budget. These economy white wash cloths, bath towels, bath mats, and hand/gym...
Bar Mop Towels made of 100% Cotton Terry Ribbed in White. Range in weights from 19 oz to 32 oz. White Ribbed Terry Bar Towel Cleaning Rag Ribbed Terrycloth for Maximum Absorption Packed in...
Economy Bath Towels, Hand Towels, and Wash Cloths made of 100% Cotton. Sturdy 10 Single Pile yarns. Perfect for high-loss situations where budget is the primary concern. We encourage SAMPLE...
Finally…an affordable Earth-Friendly program! The EcoEssence line of hotel amenities features soaps that are packaged in cornstarch wrappers which will start to break down in a landfill after...
Center Striped Bar Towels made of 100% Cotton Terry available in Standard Full Terry with center colored stripes. Bar Towel Cleaning Rag Maximum Absorption Packed in Bales fo 1200 pieces 17" x...
Bar Towels made of 100% Cotton Terry Ribbed in White. Range in weights from 20oz to 36oz. "Maxi-Mop" versions are heavy duty constructed with a stronger weave and low piles. Maxi Mop reduces lint...
Wholesale White Bar Mop Towels made of 100% Cotton Terry available in Standard Full Terry, in plain white. White Bar Towel/Bar Mop Towel Cleaning Rag Maximum Absorption Packed in Bales of...
The Ocean Spa Collection's salon formula with sea kelp is rich in antioxidants. This attractive tube program will appeal to your most discerning guests. Our spa formula has an enticingly subtle scent...
Standard 16/S Towels are made of an 86/14 cotton/polyester blend fabric. Please note these are truly economy, entry level towels for , i.e; a high school gym towel, hospital...
TERRA PURE® GREEN TEA™ is enriched with pure ingredients and packaged using recycled paper and 100% soy based ink, the TERRA PURE® GREEN TEA™ line is one of the most earth conscious amenity programs...
Microfiber cleaning cloths add efficiency to your cleaning. These microfiber towels are ideal for patient contact areas such as countertops and bedside tables. 16 split microfiber (80/20...
ProNature® is an upscale line of personal care guest amenities that celebrate nature by blending pure earth-conscious ingredients combined with eco-friendly packaging. Packaged in bottles and boxes...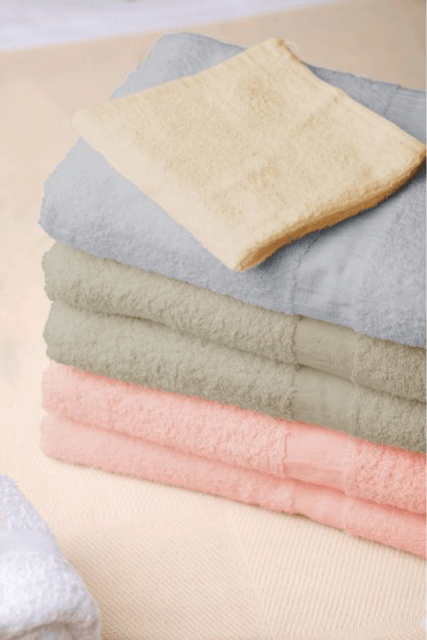 Textile Experts
Enjoy our wholesale pricing that makes even the most luxurious level of linens affordable. Direct Textile Store is a premier supplier of textiles in bulk that sells five-star wholesale tablecloths, wholesale blankets, wholesale bed sheets, wholesale towels, wholesale aprons, wholesale pillows, healthcare and patient gowns, bulk blankets, bulk towels, and everything in between.
You will always be able to find products in our selection of wholesale textiles that fit your brand and customers' needs perfectly. We, at Direct Textile Store, believe that our customers deserve fast, reliable, and affordable service which make us one of the best suppliers in the industry. We try to ensure that all products on our site have a basic, standard, and premium option to ensure the right fit for any niche.
Read More
Wholesale
Explore
Learn why
Wholesale
Have Questions?
Ask Our Textile Experts